Skip Navigation
Website Accessibility
PFAFF Embroidery Club
Hello Everyone!
PFAFF Embroidery Club!!September 21st Time: 1-4 pm
Sorry, we had to miss last month! We will do the missed project this month!

Tweet..Tweet… to music!
This cute Music Bird zipper bag takes two hooping. We will use a built-in font and music note mini designs to decorate the front. The second hooping we will add the music bird and finish it. This class will go over in the hoop zippers, appliqué, fonts, jumping around in stitch out mode, and much more!
Kits are $15.00. No CD/Design Fee this month. The Music Bird design is by SmartNeedle.

The supply list is ready! Please call or come by the shop to sign up!

Warning.... We might run over by 15 min on this bag.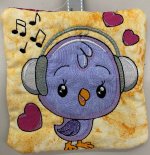 For those that don't know... PFAFF Embroidery Club meets once a month on the third Saturday of the month.
Time: 1-4 Instruction Fee: $25.00. Sometimes there is a kit fee and/or a design CD fee.
Each month we do a new in the hoop project or embroidery. This class is only for the Pfaff Embroidery machines Vision, Vision 5.5, Creative 4.5, Sensation, Sensation Pro, Sensation Pro 2 and the Creative Icon. You have to know the basics of your machine. There is a limited amount of space so I need to know who is coming.
Thanks,
Sara
Sandy's Quilt Shop
613 N. Broadway
Joshua, Texas 76058
817-447-1233